The future of Text-A-Tip at LBHS
Hang on for a minute...we're trying to find some more stories you might like.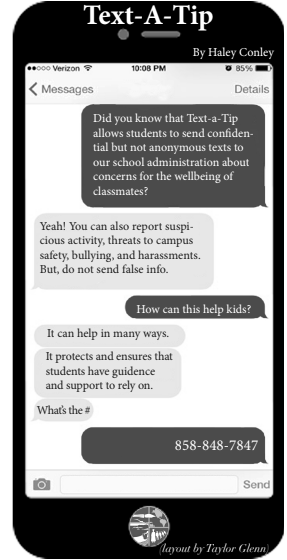 Approximately eight years ago, LBHS implemented a new program called Text-A-Tip, which allows students, staff, and parents to submit information to administration confidentiality, but not anonymously. Here at LBHS, students can use Text-A-Tip to contact administration if they know if someone is involved in anything dangerous, or if they know of someone who needs help in any way.
"One of our previous principals and I were discussing how students might be able to reach out for help if it became necessary. We spoke to our IT Department and they were able to help us implement the resource for all," said Assistant Principal Mr. Bob Billinger.
Mr. Billinger receives all of the texts that are sent to the Text-A-Tip phone number.
Of course, there are some students who have chosen to abuse this tool, by falsely reporting information or sending irrelevant messages with the sole goal of being funny.
"Unfortunately, there are a few who think it's cute to send a message that is either irrelevant or foolish," said Mr. Billinger. "We determine who they are, and then consequences for inappropriate use are given."
If a student uses Text-A-Tip for the wrong reason or send an inappropriate text, they can be cited for filing a false report, which is honored by the Laguna Beach Police Department.
With the addition of Student Resource Officer Corporal Cornelius Ashton, LBHS is hoping to turn Text-A-Tip into a program that students take seriously and do not joke around with. As students use Text-A-Tip appropriately, they help contribute to the safety of all at school.
"We encourage students to 'see something, say something' as everyone plays an integral part in maintaining a safe environment that is free from hate, bullying and violence. It is also important for our school community to ensure that every student feels the campus is a safe place where they can feel free to ask for help and know that there are resources on campus available to them," said Corporal Ashton.
Text-A-Tip is available at anytime. Simply text (858) 848-7848 with any information you may have. The program may also be used to tell administration here at LBHS about anyone you may know who is struggling or needs help.