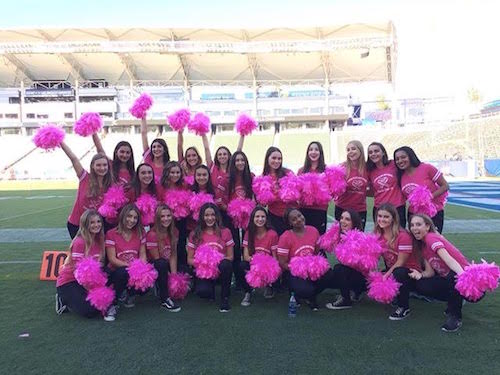 Estee Carrizosa
On Sunday, Oct. 22, the LBHS Dance Company performed at the Chargers halftime breast cancer awareness show at the Stubhub Center. The girls flooded the field in brightly colored pink shirts to dance in front of a stadium full of cheering crowds. Knowing that LBHS dance teacher Estee Carrizosa is a breast cancer survivor, her friend and NFL halftime producer reached out to the LBHS Dance Company to be a part of the performances. Being able to dance at the Chargers game was an extraordinary opportunity, especially for those who were with Carrizosa when she was going through treatment last year.
"The dancers got to perform alongside the Charger Girls and college dance teams. The level of professionalism was very high at rehearsals and during the performance. The dancers were expected to be focused and present so we could accomplish our goal of performing as one," said Carrizosa.  
The choreography was sent to the dancers via video, challenging themto adjust to learning without the direct guidance of a choreographer.
"The most challenging part of preparing for the game was acclimating ourselves to a large arena with over 100 dancers performing at the same time. The other groups are either in college or professional, so they are used to the caliber of these types of performances," said Carrizosa.  
The dancers believed the most rewarding part of dancing at the Chargers game was being able to bring awareness to breast cancer.
"It was so cool to see all the survivors out on the field with us, including our beloved Miss Carrizosa, and being able to dance in support of them and what they have gone through," said senior Katie Moore.
Performing at a very large event such as the Chargers halftime show brought the dancers closer. The common nerves mixed with excitement united the dance team as they challenged themselves to perform at a professional level.
"This was a bonding experience for all us and Miss C! We had a lot of free time while we were there, we all had time just to hang out," said Moore.
Carrizosa has outsourced working choreographers to come in and teach master classes in the past. One of her main goals moving forward is to expand the dance program beyond just the school and include more community performances like the Chargers game.
"I want to put LBHS Dance on the map as a strong and well-respected program. I am hopeful more opportunities like the NFL will come our way!" says Carrizosa.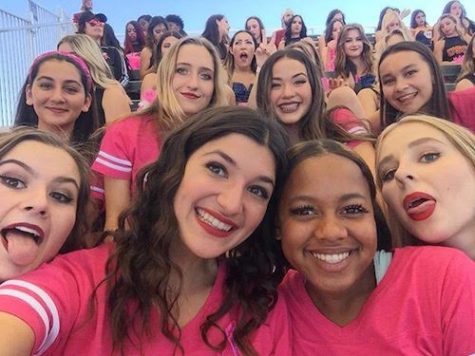 Maxcy Grasso