Master testing schedule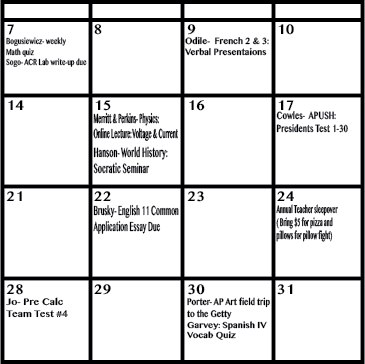 Hang on for a minute...we're trying to find some more stories you might like.
As we all know, having multiple tests on the same day can constrain studying time, mount excessive pressure and leave us mentally exhausted at the end of the day. However, a solution may have been created at a recent House of Representatives meeting, where delegates discusussed the possibility of a master testing schedule. This calendar would provide teachers a place to share the dates of their tests in order to plan around students having multiple tests on one day.
As taking multiple tests on the same day can be agitating, this platform would be very worthwhile for students.
"Having to prepare for multiple tests on a single day is very taxing," said junior Riley Bumgardner. "Having tests separated and having teachers know when students have tests would make everyone happier; it's ideal for students' success."
However, implementing this schedule wouldn't completely eliminate schedule problems.
"I think it has the potential to be a good thing for teachers who can adjust the dates of their tests," said AP US History teacher Kristin Cowles. "However, I don't think it will become something that eliminates all the conflicts that students have with important tests because of the nature and flow of some classes and the inflexibility of their schedules."
Cowles raises a good point: Not all tests can be changed to help students, especially with the arrival of the end of the school year. But for students next year, the calendar does have the ability to lighten their load and provide them with a more comfortable testing schedule.
One major roadblock prevents the calendar's full potential: its usage. Teachers don't technically have to use this calendar because it wasn't formally addressed in their employment contract. Thus, it is optional whether or not they want to use it. As of now, only two teachers have posted their testing schedule for the upcoming weeks. It seems that if students really want their testing schedule lightened, they'll have to speak directly with their teachers.
"I think it's a mixed bag, with some potentially good outcomes," said Cowles.
The testing calendar still has a long way to go before it effectively eases students' testing load, yet with additional teacher support, it can become invaluable for students struggling to balance their responsibilities.