College and Career Center pilots mentoring program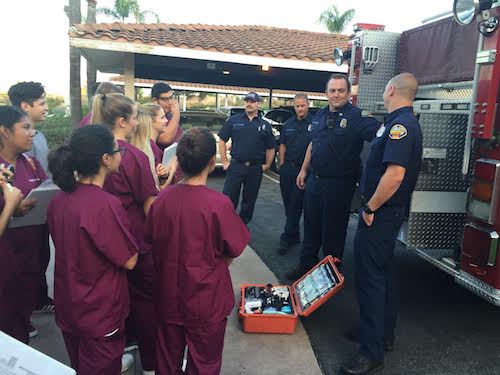 Hang on for a minute...we're trying to find some more stories you might like.
In an attempt to increase the amount of educational opportunities available to students at Laguna Beach High School, the College and Career Center has piloted a new student mentoring program.
"As a pilot program, we are just getting started, but we are based on the Newport Harbor High School's mentoring program," said LBHS college and career specialist Ann Bergen.
Having been approached by Director of Special Education and Student Services Irene White to spearhead a mentor program for the high schools students, Bergen and Transition Service Coordinator Cyndi Kimball looked to other schools' programs as a model.
"The students have a chance to see what a typical day in the life of the professional is, and I think that's important because, regardless of what you think the job is like, you really don't know until you walk along with them throughout their day," said Bergen.
As an introduction to the program, Kimball informed the 11th-grade English classes about the program and encouraged them to apply at the College and Career Center. The application process for the mentoring program included completing an online form and responding to questions regarding personal interests and skills.  If selected, the juniors were paired individually with mentors with similar skills and interests.
"Even though everyone doesn't have a mentor right now, we still have field trips and other opportunities we are doing with the students," said Bergen.
After getting the new program cleared through the district, Bergen set out to make sure the mentors were properly prepared.  Immediately, the program attracted many LBHS students, but, unfortunately, there were not enough mentors to match the demands of students. With only half the students having mentors, Bergen continues to reach out to the remaining students by arranging field trips and creating other opportunities that allow students to explore their interests.
"It's just a great program where I can look for opportunities where I wouldn't have anywhere else; it sets me up for future jobs and openings I wouldn't of come across otherwise," said Jake Mangus, a senior involved in the mentoring program.
On Friday, March 24, students in the program are going to a forum at Orange Coast College. In order to give the students an opportunity to go to different career workshops and explore professions, they will meet with different guest speakers from multiple career industry sectors.
"We have had a clinical psychologist, a theatrical director and an attorney sign up to mentor, among others," said Bergen.
There is a variety professions that students can explore: communications, graphic design, business marketing, medicine, forensic pathology, volunteer housing programs and nonprofit organizations are among the current opportunities students are exploring.
"I just recently heard about the mentoring program, and I would have been extremely interested in signing up. I'm already in a CCA class, but I am interested in looking into the mentoring program next year," said sophomore Deeba Saffarian.
The CCA program, formally called ROP, is an additional program students can learn about through the College and Career Center on campus. The CCA courses are extremely competitive and in demand. Students must apply early to take classes, since the programs always fill up quickly. For those who have taken interest in the CCA program but haven't committed to the courses, the new mentor program provides an alternative for gaining knowledge through a hands-on approach.
Exploring career paths during high school can open future employment opportunities.
"I just kept applying everywhere," said fire inspector Ryan Hernandez, a CCA mentor. "I went out of state, expanded my options. Next thing I knew, I had five different states calling me for a job. I want to be able to teach other students how to start their career pathway."
Over the years, Bergen believes that the Laguna community will help the program thrive, and that we, as a school, will gain more mentors and opportunities as the program expands. Many students have displayed eagerness to join the program, and if a mentor has been cleared by the district this year, he or she will have clearance to work with next year's students, as well.
To learn more about the new program, visit the College and Career Center's Haiku page. On the Haiku page, under the Career Exploration dropdown, there is a mentoring tab with applications for potential mentees or mentors to join the program. There is also a Career Technical Education (CTE) page on Haiku that can guide students through finding programs that  fit their needs.
If you want to join the mentoring program or enroll in a CCA class, see Mrs. Bergen in the College and Career Center. Registration is closed for this year, but it is never too early to begin planning for next school year.