Annual "No Suits Allowed" concert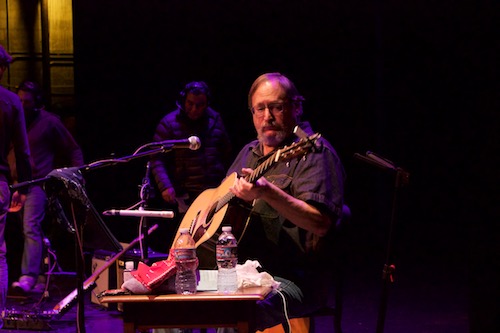 Hang on for a minute...we're trying to find some more stories you might like.
On Saturday, Jan. 28, more than 30 acts performed at the Artists Theatre for the annual "Shap Show." Performing with retired LBHS math teacher Gary "Shap" Shapiro has become a tradition for the past twenty-nine years.
"It's been a hit ever since Mr. Shapiro started it. He consistently has about 30 acts in it, having to eventually cap it," said scholarship coordinator Lynn Gregory.  "It's become almost a tribute to Mr. Shapiro and everything he has done."
Starting at 7:30 p.m., the show this year lasted a full three hours. Although most of the acts are made up of current LBHS students, alumni students and friends of Shap have been known to come back and perform with him.
"My favorite part is working with the student singers and musicians. There is and has  always been so much talent at LBHS. It is a privilege for me to work with them," said Shap.
The Shap Show is often a way for students who aren't in Drama or Chorus, but still want to perform in the theater, to experience the thrill of performing arts and gain an appreciation for music.
"I miss my students in my classes. I miss my fellow faculty members. I miss the families of my students and I miss the city of Laguna Beach. My years of teaching at LBHS were absolutely wonderful, fulfilling years," said Shap.
Retiring two years ago, Shapiro left as a beloved teacher. The current senior class is the last class at LBHS to recognize him as their teacher.
"I had such a positive experience working with Shap! I think it's awesome that he gives all of his time to help out the school even though he doesn;'t work here anymore. The Shap Show is a fantastic way to help fund the senior grad party," said senior Ellie Glade.
As a result of ticket sales, bake sale earnings and a raffle at the event, about $3,600 was raised for the senior class. The funds go to the Safe-and-Sober Grad Night, where seniors, on the night of the graduation ceremony, go and celebrate their graduation at a certain venue held secret until the seniors arrive.
"The time and effort that goes into the show is tremendous. Mr. Shap meets with each participant consecutively before the show, and he learns the song the kids are performing and helps them improve. The rule is: He has to be in every act, because it is his show," said Gregory.
Shap is extremely talented with multiple instruments and is known to switch between different guitars to match the mood of the song he is performing.
"I was a really fun experience to work with a former teacher who is also an amazing artist," said junior Jaimie Lagner.
Although Shap has run the show for almost 30 years, the show may soon find a new director.
"After I stop leading the show, I think there should still be some form of 'talent show' occurring at the high school. The show does not have to be the same as how I have done it, but it should be done nonetheless," said Shap.
The Shap Show was sponsored by the Grad Night Committee, who is chaired by a current LBHS parent, Amy Kramer. The main photographer of the night was Cash Strauss.
"In case he comes back next year, I would encourage anyone who loves music to jump at that opportunity. It's a really rewarding experience," said Gregory