AP Euro goes global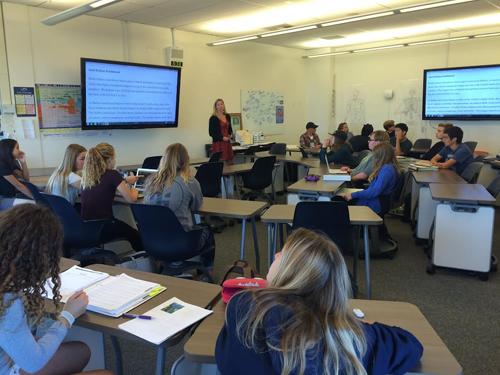 This 2016-17 school year, Heather Hanson's AP European History class implemented a new program where students are not only exposed to knowledge about history, but also provided the opportunity to earn community service hours. The project, started by the College Board, is partnered with an non-governmental organization called We. The project will incorporate service learning into the curriculum of the AP course.
"The idea regarding the project is that students are able to connect the content of the course to the real world. Hopefully students will continue on performing services throughout their high school careers and the rest of their lives. This idea of making an impact in the world, making a difference, is a way to bring the learning to real life," said Hanson.
Currently, AP European History remains the only class offering this unique opportunity at LBHS.  Although Hanson is offering this project within the AP Euro curriculum, the project remains entirely student led.
"What's nice about it for students is hopefully it makes the learning seem more relevant, and that it's really meaningful and rewarding, giving them a chance to make a big difference. In terms of practical purposes, it's also beneficial because they can use it for their community service hours; and, in an increasingly competitive college admissions world, it can really set them apart since only six AP courses offer it," said Hanson.
One topic her students will work on includes the causes and effects of poverty over time. The students have the freedom to select a project that they're passionate about. As part of the criteria, the students must commit to one local or national action and one international action. Their options are fairly open; they have the choice whether to team up with an existing charity and work on a project with them, or create their own project. In addition to attaining greater knowledge regarding history, the students will practice working together, setting goals, managing time and applying themselves by using content and connecting it to the real world.
"It'll be a great learning tool because it will help teach people more about helping in the community and demonstrating that they have the power to make a difference on a large scale, national or international. In my life, I hope to give a lot back as well as understand the real world problems better, on a local, national and international scale. If all of that starts from this project that would be cool, but I hope it's not all. It could maybe be a slingshot into more impactful service," said sophomore AP European History student Zack Bonnin.
Fortunately, the students in AP Euro have the flexibility to do whatever suits them, and, since the school year started so late, they have extra time at the end of the year. The class remains mindful about the topic all year, and if students want to start on a project right away they can, but the bulk of the work can also be done after the AP test. An example of a project could involve circulating a petition to raise awareness trying to convince leaders to incite some kind of change, or students could create a PSA to raise awareness regarding a topic they care about.
"One of the reasons I teach is to try to have an impact on the world, and I think it's important to be of service. I thought this was a great opportunity to bring that to classrooms and hopefully get the students excited about this, as well," said Hanson.