Summer Jobs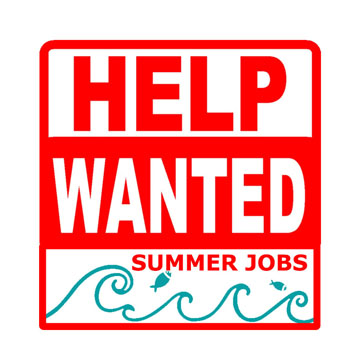 Hang on for a minute...we're trying to find some more stories you might like.
It's getting to be that time of year again… SUMMER! Unfortunately, the reality is that as students get older, their summers call for more work and less play.
"Last summer I was able to go to the beach every day, but this summer my parents are making me get a job and start paying for my own things," said sophomore Eilidh Stalker.
As college approaches, competition increases. It's no longer only in school year, but also in summer. Summer jobs can boost students' resumes. It looks fantastic on a college application and shows you are responsible and don't spend your summer locked in your dark room playing video games all day. The Common Application just added a spot to put job experience. You don't want to just leave it blank, so get a job and fill in that blank space!
"To boost my Common App, I got a job at an interior design store called Tuvalu. I am excited because I want to be an interior designer when I am older, and this will give me good work experience," said junior Callista Wulff.
Summer jobs are important for many of reasons. You earn your own money, you learn good business and life skills, you learn to cooperate with others, they look good on resumes, you can meet interesting people that could help your career in the future and if you get the right one, jobs can be fun!
"In summer jobs, there is a lot of real world experience you that can showcase in a college application," said college and career coordinator Ann Bergen.
Applying for a job is also good practice for applying to college. When you apply for a job, you interview and fill out applications, just as you would when applying to college.
"The more you get used to doing applications, interviewing and competing with other people, the closer you get to being comfortable with applying for college" said Bergen.
Jobs are rewarding once you get the first pay check. You get a sense of what it's like to be an adult, and it's not so bad. With the increasing numbers in your bank account, you will feel considerably more comfortable buying food and gas for yourself because of your consistent pay check.
"I am excited for depositing my first paycheck and being able to go shopping for the first time in months," said Begay.
Although working will take a lot of your time, you will befriend all of your coworkers, so the long hours you spend working won't be so bad. Make sure to work at a place where your coworkers actually smile at the customers.  
Common places where Laguna students get jobs are Banzai Bowl, Gelato Paradiso, Gina's Pizza, Festival of the Arts, the community pool and local camps.  It's not too late to find a job! Come visit Ann Bergen in the college and career center in the library, and see if you can find yourself a summer job!